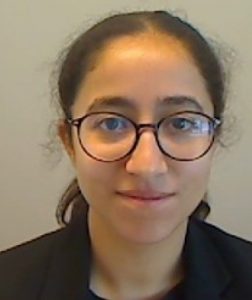 Email: inass.sekkat@enpc.fr
I am currently a PhD student working on "Large scale Bayesian inference" under the supervision of Gabriel Stoltz.
I would like to acknowledge financial support from Université Mohammed VI Polytechnique.
Publications 
Removing the mini-batching error in Bayesian inference using Adaptive Langevin dynamics, arXiv preprint  2105.10347 (2021) pdf.
Talks given in conferences and workshops
Posters
Teaching
Second year course in analysis at Université Paris-Dauphine, 24h, (tutorials)
Project for 1A Ecole des Ponts ParisTech (MCMC methods), 10h.
Cv  Cv